Optimus 1000
RIB modification, refit, and repower creates a highly versatile work boat
Beyond Vegas was given enhanced performance and more diverse capabilities through a major refit and modification program at Dongara Marine that saw its new owner rename it Optimus 1000.
The rigid inflatable boat (RIB) was originally built in 2012 to transfer Marine Pilots in the Western Australian port of Dampier, a role that the newbuild Berkeley Class pilot boat AMG Winyama took over in mid-2016.
Terrafirma Offshore bought the boat in late 2018 and we completed its refit and modification in May 2019, less than five months after starting. The work completed means the RIB is now equipped for crew/personnel transfer as well as survey and other functions in addition to the original pilot boat function.
To facilitate crew transfer and even tourism work, we substantially reconfigured the aft deck to provide sheltered seating for up to 12 passengers. The aft passenger seating and awning can be removed to provide clear deck area to carry up to 1.5 tonnes of cargo, with a new slewing davit fitted for overside cargo/equipment handling. We also rebuilt and modified the man overboard recovery platform to include a moonpool.
The cabin layout was also re-arranged to allow for easy reconfiguration between a layout of six suspension seats to reduced seating and tables providing survey stations. Our fitout specialists also fitted the toilet cubicle, kitchenette, vee-berth, and work stations as well as re-upholstering the existing seating. The air conditioning was also replaced.
Another major modification was repowering the vessel with Volvo Penta D6-IPS500 propulsion units replacing the original Volvo Penta D6-IPS450 units. Although total power increased by a relatively modest 58kW it has had a major impact on speed. The steerable pods with twin counter-rotating forward facing propellers provide Optimus 1000 with a 4.5 knot advantage compared to the former configuration.
The propulsion controls were also updated to include station-keeping / dynamic positioning capability.
In addition to the planned modifications we also undertook significant repair and maintenance work on both the vessel and its systems. This included replacing the severely degraded original foam collar with our custom fendering system.
"The work Dongara Marine did was awesome. They've entirely transformed the boat, inside and out, and really enhanced its capabilities.
"Dongara Marine's capability and customer service is outstanding…if I wanted something done it seemed like nothing was ever too much to ask."
Daemon Bass – Director - Terrafirma Offshore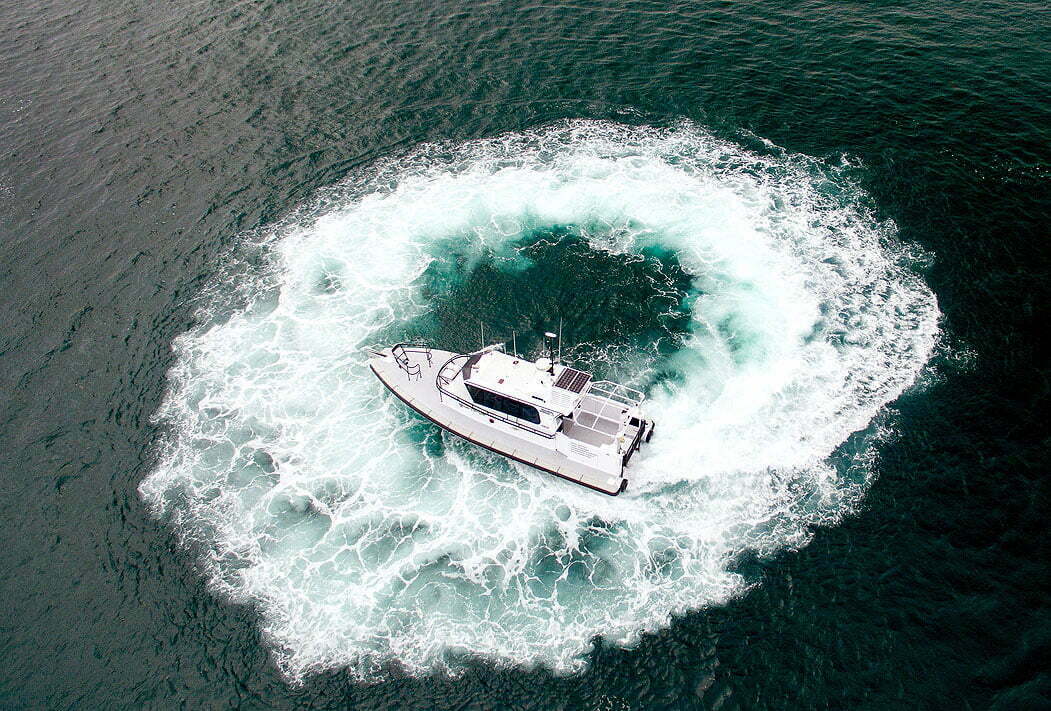 Specifications
Overview
Principal Particulars
Propulsion & Performance
Other Details
Project type
Vessel Refit / Repair
Client
Terrafirma Offshore
Vessel Type
Pilot / crew transfer / survey RIB
Designer
Naiad Design / Southerly Designs
Construction materials
Aluminium hull and deck
Survey / Class
AMSA NSCV 2C
Length overall
12.6 metres
Capacity
12 passengers, 1.5 tonnes cargo
Main engines
2 x Volvo Penta D6
Maine engine rating
2 x 272kW
Propulsion
2 x Volvo Penta IPS500 steerable pods
Original builder
Kirby Marine
Original name
Beyond Vegas
Fendering
Custom polyethylene foam / HDPE tube